My Inspiration Pictures.
I can't say I've found one picture that has it all, but I think I've got it just about all the pieces figured out. Calacatta gold hex tiles currently make my heart pitter patter, so those will hopefully be the winner for the shower tile. This picture has the white subways which are definitely a steal by price. However, I somehow managed to pick the one white subway at the store that cost $20/sq foot. I kid you not. I looked at it. I lusted. I knew this had to be the one. Then, I got real. I put it back, and decided every piece did not have to be "the best" they just had "to work" with my vision. Here is the more appropriately priced tile that I'm going to go with (both subway and hex tile).
And in case you are curious, here is a pic of the Walker Zanger subways that were perfect, but a definite budget breaker. They are beautiful. I want to marry them. And it's called "Cafe". Just look at how perfect she looks there with that espresso. Okay, the show must go on.
And for the vanity, something a bit rustic like this, with a wee bit of fancy marble added to boot. I live in Idaho. Not Iowa. Not Indiana. Not Illinois. Idaho. The shipping here for this bad boy could feed my house for a couple months. So this guy is just my inspiration, but won't be the final winner.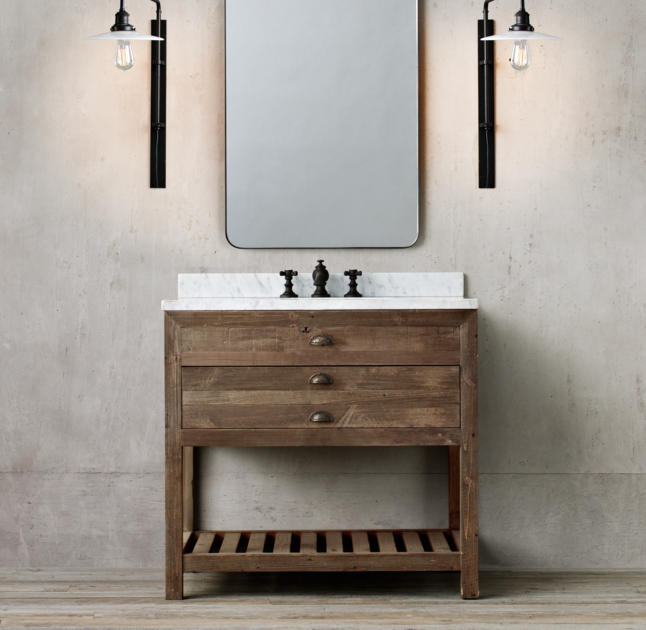 Photo Credit
Flooring. This has been a struggle. A real struggle. The hubs has an opinion, and I might add, not a bad one in terms of design. So, we are compromising. I longed for wood tiles, but they just weren't realistic with the real wood/flow of the rest of our house. Thus, we've settled on a travertine. A real one. One that patinas. Yes, I know it will get dirty, but we've both decided to take the risk, because we like the look. Something kind of like this picture is the goal.